Just as racism and homophobia exist to varying degrees around the world, so does bigotry against nudists. It might seem offensive to equate the two, but in countries like Saudi Arabia and Afghanistan, where women who refuse to cover their faces can be jailed, beaten, and raped, the comparison seems more appropriate.* Unlike homosexuality, becoming a nudist is a choice, and yet that choice is a fundamental part of my identity. I see little difference between a person's faith and a belief in the innocence of the human body. The fear that exists among transgender people, the pressure to conform, to continually hide from scrutiny, are feelings many nudists can relate to.
Nudity harms no one, neither physically nor psychologically, and yet we are never FREE to live as we were born. The reason is rooted in outdated taboos from a time when slavery was sanctioned by God, women were stoned for adultery, and homosexuals were put to death. Our Puritan roots have deeply entrenched in us a fear and hatred for the human body, but what continues to perpetuate this attitude, despite increasing secularism, is a consumer industry which profits from shame and making people feel unattractive.
To break the nudity taboo, something that perpetuates sexism, body hatred, and an unhealthy sex obsessed society, we need heroes. Every movement needs heroes when society's mores are challenged. For too long, we have hidden behind the walls of our resorts, far removed from the public eye. In general, there has been no way for people to learn about us, and so we are left with ugly stereotypes and misconceptions. Fortunately, there are intrepid individuals who have found the courage to act upon the conviction that the human body is neither indecent nor shameful. Throughout the world, these naturist heroes prove that we don't need to feel ashamed of our bodies, that to be naked is a beautiful thing.
---
Stephane Deschenes
I typically don't include owners of resorts on this list, specifically because I feel they can be detrimental to the movement. It suggests nudity should not be made public, but rather, hidden away in special places reserved for that purpose. Surely, if we are ever to attain freedom from shame, these resorts will be shutting their doors, right? But Stephane Deschenes, proprietor of Bare Oaks Family Naturist Park in Ontario, Canada, is one of the most outspoken advocates of the nudist movement, often using his business as a platform from which to introduce newcomers to the lifestyle, all the while proving how normal and healthy clothes-free living can be. On his podcast, The Naturist Living Show, Stephane brings a level-headed and in-depth approach to the subject. It really is a must listen! The other thing I like about Stephane, we both share a similar, philosophical outlook toward what he calls "ethical nudism." For Stephane, nudism is more than just shedding your garments, but a way of seeing people without prejudice, which is why he has taken a hard stance against the "clothing-optional" trend, understanding how most of these venues, like Club Hedonism in Jamaica, turn into voyeur, exhibitionist, and swinger clubs, everything nudism is not. If you really want to understand what nudism is and isn't, look no further than Stephane.
---
Nick and Lins
No list of naturist heroes would be complete without Nick and Lins. This adventurous Belgian couple has recently shot to the top of the nudist/naturist spotlight, through their blog, Naked Wanderings, which has become the "go to" guide for naked travel. They've circled the globe in search of body freedom, from the Americas to Europe to Asia, and they have been featured on a variety of mainstream media outlets, including CNN. Their casual attitude toward nudity is perhaps the best thing about them. Rather than argue (like I often do) for some radical new world of acceptance, Nick and Lins take a more practical approach, presenting clothes-free travel as a fun, carefree vacation, a way to destress and better enjoy life. Even so, their motto is "because life is better without clothes," and I couldn't agree more!
---
Paula Brindisi
Who needs clothes? Paula Brindisi certainly doesn't! This Argentinian is a real inspiration, devoting her life to the practice of Urban Nudism, going naked in the streets in sight of everyone, and she has been at it a long time, even while pregnant! The most powerful message a nudist can send that the human body is nothing to be ashamed of is by showing it. Not hiding at the far end of some beach or in some secluded part of the woods, this brash new wave of activism is the most heroic kind of nudism. Seriously, this girl is my hero! You can check out Paula at Urban Nudismo.
---
Hector Martinez
Young, charismatic and outspoken, no list of naturist heroes would be complete without Hector Martinez. Hector is the youngest founder of a landed club in history, the "NNG," and has been shamelessly promoting his free body philosophy all over social media, on Twitter and on YouTube. In his native country of Mexico, nudism has never been popular, due, in part, to a scarcity of clubs. But Hector has been working to change all that, introducing people to the lifestyle, while helping acceptance of public nakedness grow. The best thing about Hector, he isn't afraid to go full frontal in front of the camera. As I have long argued, we cannot hope to change attitudes if we do not practice what we preach—we cannot claim there is nothing shameful about the naked body while hiding it! The second best thing about Hector, he seems genuinely sincere in his advocacy, and is just as inspiring as any of the females on this list. You really have to check out his videos to see this guy for yourself: All about NNG. You can also donate to his Patreon page at Hector Martinez.
---
Ton Dou
When asking the naturist community for male naturists to add to this list, one name came to the forefront: Ton Dou. While it isn't hard to find men willing to expose themselves on social media, Ton proves his dedication to the cause, by finding the courage to go nude in public, while surrounded by hundreds of clothed people, in the middle of Times Square! What's more, Ton takes his advocacy to another level, as both musician and singer, belting out songs in the nude before hundreds of onlookers (and confused gawkers, no doubt). You can watch a sample of Ton's live NYC event at Ton Live, or buy his music at I'm Real.
---
Gypsy Taub
My long time readers may be surprised by my inclusion of Gypsy, but after some deliberation, I've decided that the movement can only benefit from diverse voices. Personally, I am opposed to Gypsy calling the police "pigs," and I really, really disparage her wearing dildos in public. But it may be hypocritical for me to take such a hard line approach, when most people find my desire to go au natural equally offensive. No single person on this list has fought more vehemently for naked freedom than Gypsy. She's held nude rallies in San Fransisco, and once disrobed in the middle of a court hearing regarding a public nudity ordinance, nearly winning the vote in the process. What is perhaps most remarkable, for me, Gypsy is as comfortable in her skin as my naturist heroine, Thelana, going without a stitch on city streets, and while making speeches to large crowds, and on her web series, MyNakedTruth.tv. She's so often naked, you almost have to wonder whether she owns a pair of underwear (then again, who needs underwear?).
While I may not approve of her methods, Gypsy's commitment continues to inspire (she is in the green hat on the left). You can watch her most famous video here, where she disrobes during a public court hearing.
---
Dr. Victoria Bateman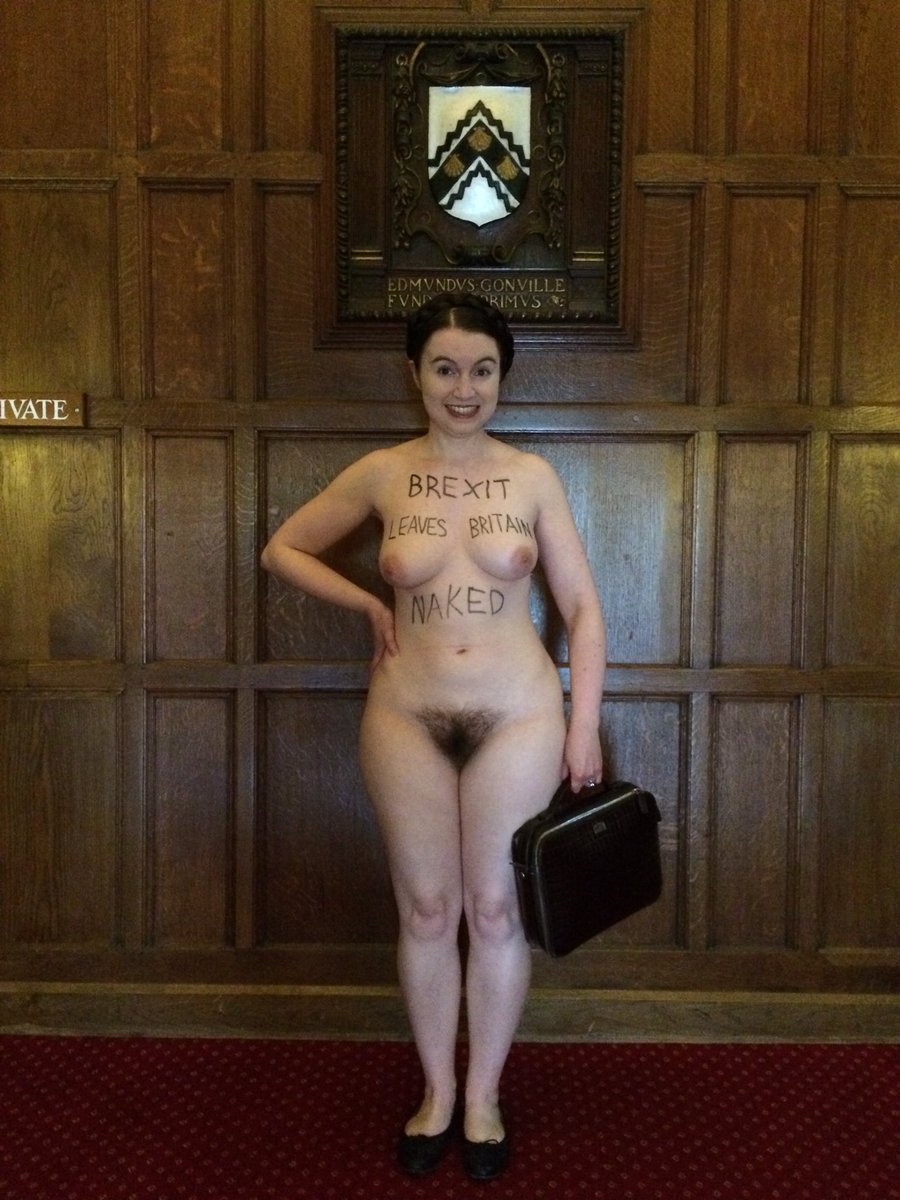 Yes, you read that correctly. Perhaps more than anyone on this list, DOCTOR Bateman is the most accomplished, having earned her PHd from the University of Oxford (the most esteemed school on the planet IMO). According to her Wikipedia page: Victoria N. Bateman is a British feminist economist and academic, specialising in macroeconomics and British economic history. She is a fellow in economics at Gonville and Caius College, Cambridge. Bateman read economics at Cambridge University, before receiving her masters and doctorate degrees from Oxford. More than simply a free body activist, Bateman is an outspoken advocate for women's rights and the rights of sex workers, and a staunch opponent of Brexit, Britain's decision to separate from the European Union. For anyone who thinks nudists are uneducated or anti-social lepers, Bateman proves otherwise. In terms of class, she stands polar opposite to Gypsy Taub, but this only goes to show the wide variety of voices that can exist within the nudist community, and that anyone, from any walk of life, can be a nudist. Be sure to watch her anti-Brexit video here.
---
Aliaa Magda Elmahdy
For a Muslim woman born in Egypt, Aliaa's courage is particularly inspiring. Nudity in Islam is forbidden in any form, but to expose oneself to the public is more than just a social taboo, it's a serious crime. By posting a nude selfie on her blog, Aliaa risked imprisonment in a country not known for human rights. This simple act incited outrage throughout the Muslim world, among both liberals and conservatives, and she received threats of rape and murder as a result. But it was all in protest of Sharia Law, a system that treats women more as objects than human beings. To prevent sexual violence, women are expected to dress modestly, but clothing like the burqa, that covers every inch of the body, represents nothing but oppression. What better way to protest the burqa, than its extreme opposite, complete nakedness? As Aliaa herself put it, her photo, "screams against a society of violence, racism, sexism, sexual harassment and hypocrisy."
---
Moira Johnston
Since 1992, women have been legally permitted to go topless in New York City, anywhere in public, wherever men have been traditionally allowed. While feminists cheered for this small victory in equality, most women continue to be unaware of the law, or if they are, lack the courage to make use of it. One female activist, however, has made it her mission to inform the public via example. Moira Johnston takes to the streets wearing nothing but pants, proving to the world there's no shame in exposing one's nipples, whether you're male or female (too bad the law still requires covering of the genitals, but we're getting there!). The best part is, most people either do not seem to notice her lack of covering, or simply do not care. It only goes to prove that common decency isn't as common as Facebook would have us believe. Watch her video here.
---
Lady God1va
As her namesake suggests, this stunning beauty* is utterly shameless, and while she does not appear to own a horse, she has taken to cycling in nothing but a helmet (as a cyclist myself—I ride a Trek 7.7 FX, she rides a 7.5—I am a big proponent of safety gear!). OK, to be fair, she doesn't do this on a daily basis. It's all part of the World Naked Bide Ride, which she helps to organize every year. On that day, it is not uncommon to see a thousand or more cyclists on the streets of London, missing more than helmets.
God1va is a British citizen, but she can trace her roots to India, where family tradition is paramount. Coming from a traditional culture myself, I find her confidence all the more inspiring, in that she is not afraid to show the world who she is, at the risk of alienating friends and family. As her blog states, "There was also the fear factor … what if I get recognized by my family/friends? However, having been on TV fully nude at least 4 times a week for about 6 months (repeats!), and having published all my photos on the web, the cat is truly out of the bag and there is no hiding now!" On her blog and in public, Lady God1va continues to express her free body philosophy. In 2009, as part of an art exhibition, she stood completely naked on a plinth before crowds of thousands, holding a placard with the words, "Naturism – It is a human right." Lady, I couldn't agree more! Watch the video here. *While I know it's taboo among naturist circles to judge a person for their looks, I couldn't help making this remark, as Lady God1va so closely resembles my wife.
---
Luis Andrew Martinez
You know that dream about going to school everyone seems to have? Where you suddenly realize that you're naked, in front of classmates and teachers? For most people, it's a nightmare, but for University of Berkeley student, Andrew Martinez, this was his reality. According to Wikipedia: Campus police first arrested him that fall for indecent exposure when he jogged naked late on a Saturday night. The county prosecutor refused to prosecute, concluding that nudity without lewd behavior was not illegal. Martinez began strolling around campus naked, citing philosophical reasons. He explained that when he dressed in expensive, uncomfortable, stylish, "appropriate" attire, he hid the fact that his personal belief was that clothes were useless in his environment except as a tool for class and gender differentiation. The university then banned nudity on campus. Martinez was also arrested in the city for indecency, fought those charges, and won. Later, after an anti-nudity ordinance was adopted, he was given two years probation. Sadly, Andrew Martinez was diagnosed with mental illness, ending his own life in prison in 2006. He was 33.
---
Felicity Jones
Many nudists you meet today, on beaches and at resorts, are over sixty. There is a real scarcity of young people involved in the movement, especially young women. When I attended the University of South Florida, I tried to start a nudist club, but made little headway. In our hyper-sexualized society, where body parts = lust, a woman who shows too much skin is thought to be a stripper, a porn star, or a prostitute. At the very least, a man will ogle a naked woman, especially at a non-nudist venue, unused to seeing a woman in her natural state who isn't "asking for it." At worst, women in the lifestyle risk violence. Simply being young, female, and a naturist takes a lot of courage. Felicity was fortunate enough to have been raised in a nudist household, and as a third generation nudist, body shame was simply something she was never taught. Now she has made it her mission to spread her family's free body philosophy to the world. As the founder of Young Naturists America, an online organization with thousands of members (including yours truly), she organizes public naturist events, like body painting day in New York, with artist Andy Golub. She is also a prolific blogger, writing on a wide range of subjects, from combating sexism to changing negative body stereotypes.
---
Stephen Gough
Even among nudists, Stephen Gough "the Naked Rambler" is a controversial figure. Gough has been convicted 28 times for 46 offences, mainly in Scotland, where he was repeatedly arrested during attempts to walk from Land's End to John O'Groats without clothes. He has been sentenced to more than six years in prison in total. Many would argue that he does not belong on this list, and Stephen himself has stated that he is not a nudist. But since there is no consensus as to what nudism is, and considerable misunderstanding regarding its practices and beliefs, I cannot rule him out. Of course, simply being naked does not make one a nudist. Strippers are not nudists. Porn stars are not nudists. Exhibitionists, people who show their bodies for the intended purpose of shocking and offending others, are the extreme opposite of nudists, emphasizing rather than de-emphasizing the body. Nudism, in essence, is a non-thing, the simple belief that the body is good, shameless, and legal. Unless Stephen intended to offend, and I have seen no evidence of this, he is a nudist, whether he says so or not. What truly sets him apart, however, is his willingness to get arrested, time and time again. Many have questioned his obstinance and sanity, but perhaps more than anyone on this list, he has shown us the absurdity of anti-nudity laws, by how much time and government money has been wasted imprisoning him, a man who has done nothing to harm anyone.
---
Miley Cyrus
She has been exposing herself in videos, magazines and on Twitter, leaving nothing to the imagination. But, unlike Playboy models and porn stars, she has made natural nudity a focal point of her career, claiming that she would like to move to a nudist colony someday. Performers have long relied on controversy to keep the media focused on their careers. Who can forget the Beatles' hairstyle, Madonna's infamous Sex book, or Janet Jackson's nipple slip? But while she may be courting controversy for publicity's sake, her shameless confidence cannot be denied. Real naturist or not, Miley can only have a positive effect on the movement. In the past, such exposure would have been scandalous, a career ender. Instead, Miley proves how tolerant we have become as a society.
---
Jenny Scordamaglia
South of the border we come to Jenny Scordamaglia, who has never been one to shy away from the camera. Like few others on this list, she has the remarkable quality of appearing so comfortable in her skin, it's easy to forget she is naked. Jenny started her career in modeling, but while many women with her looks end up in porn, she's proven that nudity doesn't always lead to sex, and that there are many innocent things people can do in the buff. Among these are naked yoga, which is becoming more and more popular these days. On her cooking show, Naked Kitchen, she prepares meals wearing only an apron. Despite her propensity for showing us her goods, Jenny is anything but a brainless bimbo, as her bio attests: She has been a journalist for magazines in Brazil and Peru, published her first book, "Llamado de Atencion," to help young adults live positively, and in 2009, she hosted the biggest Latin American show from Europe, in the American Airlines Arena in Miami. She was chosen "the voice of Miami," representing South Florida, for Comcast Xfinity, and in 2012, she opened her first meditation center, "Centro Transformacion," in Spain. Jenny was also the official host of Miami's "International Film Festival 2012," which raised money for Tanzania, South Africa. And in 2013, she launched Miami TV, available on Google Play and iTunes. Learn more about Jenny on her page.
---
I consider these people heroes for doing more than just writing about nudism, for showing us, through their actions, that a penis is just a penis, a vagina is just a vagina, and there is nothing wrong, or embarrassing, about letting anyone see our genitals. They found the courage to reject the taboos of the past, risking ridicule and social ostracism to embolden the rest of us. If we are ever to become free, we must follow their example. We must find the courage to expose our bodies to the world. So if you love being nude, tell your friends and family. If you have a blog, post an honest selfie, the one that represents who you really are! Go nude wherever you can and as often as you can! Have a penis? Show it with pride! Have a vagina? Don't hide it—it's a beautiful thing! It's YOU!
UPDATE 01/18/2021: Since I originally created this post four years ago, the number of nude advocates has grown exponentially. More and more, people have been finding the courage to express their true naked selves. I myself have received nothing but positive responses for my articles, nude selfies, and videos. It's truly remarkable to be seeing such radical social change! In this update, I've included Stephane Deschenes, Nick and Lins, and Paula Brindisi.
Final Thoughts:
I want to address a few points regarding this article.
No. 1. If you'll notice, there are fewer men than women on this list. While I wish I could have included more males, the reasons I haven't are multifold. Firstly, I think it's safe to say that male nudity is treated differently in our society. Men have traditionally enjoyed greater body freedom than women. A guy going topless in NYC isn't going to have the same effect as Moira Johnston. Along the same lines, men in Muslim countries are not made to suffer under a burqa. There's also the difference between men and women's attitudes toward sex. Men rarely have to deal with sexual harassment, so whatever courage a male nudist displays pales in comparison to that of a female's. Finally, I find men's interest in public nudity suspect, in that it more often has to do with soliciting women and sexual gratification. We've all had to deal with dick pics, but how often do men get harassed by unsolicited vag pics?
No. 2. Almost all of the images I've chosen, wherever possible, are full-frontal, including my own! I believe it's necessary to show the body in its entirety, and to not be coy with what parts we choose to display, because when you really boil it down, it's not the body per se people find offensive. If we are ever to overcome our aversion to nakedness, we must become accustomed to the sight of penises and vaginas in all their wondrous glory. We must accept that there is no shame in letting others see these parts of ourselves, that they're not so different from our ears, noses or elbows. And that starts with full-frontal nudity!
*I have recently come under fire, under a Reddit thread, for comparing prejudice against nudists to racism and homosexuality. First and foremost, I think it is important to note that yes, there are similarities, but no, the degrees to which they are similar differs significantly. I only made the comparison in reference to women in Islamist countries, who can be jailed, beaten, and raped, specifically for exposing their bodies. While this is foremost a feminist issue, it is also a matter of body freedom. Race, homosexuality, and being female are not choices one can make, but people can be ostracized, bullied, and even killed for other reasons. Choice is not the determining factor here. In America, religious families disown children who come at as atheist. In Islamic countries, atheism can bring a death sentence. On a more personal note, I spent half my childhood fearing I was mentally ill. Only crazy people run around naked! And I fretted constantly that my nudist activities would be discovered. When my conservative parents did find out, my mother spent weeks crying over it, and my father threatened to disown me. Sound familiar? So, instead of suggesting we should be less inclusive, I think it better to open the doors of communication, to learn to listen and to understand, because everyone has their own demons, and struggles in their own way.